Reimagining Debenhams on Old Market Square, Nottingham
2 March 2023
Since 2021, the iconic Debenhams Store in Nottingham has been closed; leaving the 196,000 sq ft landmark standing empty on Old Market Square. Despite having over two centuries worth of rich history encompassed in the now Grade II listed building, there is still epistemic uncertainty as to what the future of this building holds and more importantly, what purpose will it serve to the wider community.
As part of a research and development initiative, a group of passionate architects from our Nottingham studio have collated a vision to retrofit the former Debenhams estate, that not only serves the needs of Nottingham but creates a moment of architectural significance in returning the building to its former glory.
This article will give you insight into the creative minds behind the ambitious design, the problems Nottingham is currently facing and how their solutions seek to be a catalyst for greater opportunities and wider development in and beyond Market Square.
Calling for change
Nottingham is the architype UK 'middle' city, with a relatively affluent set of boroughs encircling a city centre with low levels of housing, office space and restaurants. Although demand for all these spaces far outweighs supply; the pandemic, housing and economic crisis have all caused a major shift in consumer behaviour, influencing changes to the way we now live, work and shop.
Like all high streets and city centres across the UK, we're seeing an increasing number of empty retail units with high rent prices that make it difficult for start-up businesses to be put on the map. This similarly applies to first-time buyers, who may be ambitious to start their journey in close succession to the city centre are being forced to live in the suburbs due to higher living costs and limited housing available in the city.
In a similar vein, the city has become an ever-growing, bustling place for students studying at The University of Nottingham and Nottingham Trent University, both fantastic institutions the region has to offer. Although the city has an excellent reputation as an educator and incubator of talent, the increase in student housing only meets the needs of the students until they graduate, before they are faced with the same complexities and limitations felt amongst the wider community.
In order for the city of Nottingham to become a place where people can live, work and play, we need to breathe life into existing buildings with ambition and innovation that not just preserve the rich heritage of the city but serve the community for generations to come.
Design that seeks to serve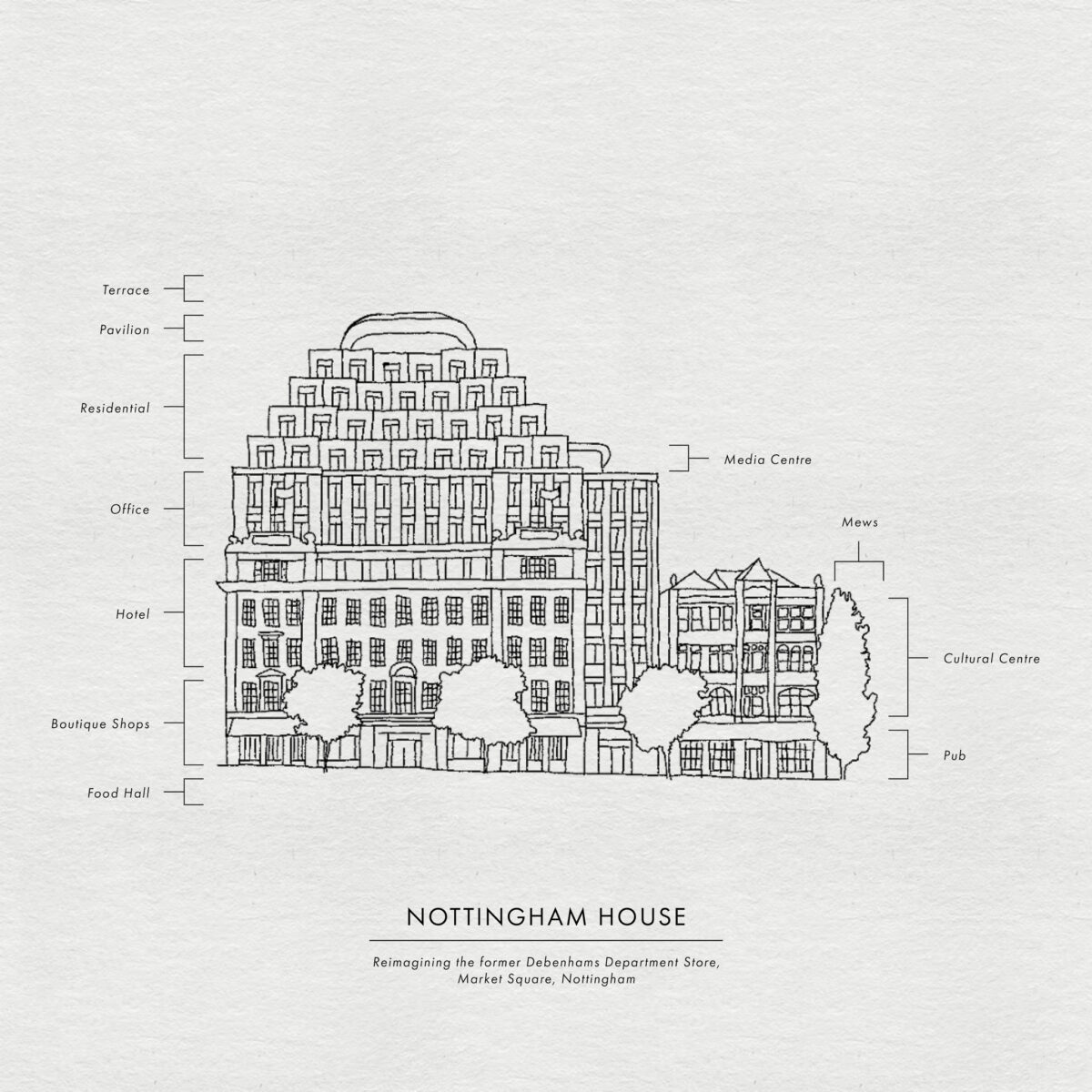 The former Debenhams building is a prime example, a beautiful building that is much too big for one retailer to occupy alone, in a very prominent location and with some of the best views of Nottingham's most iconic building. Our retrofit of the building proposes a truly mixed-use building where people can live, work and play, bringing back to life a landmark and creating a melting pot for new communities to flourish.
On the ground floor, the building has been divided into a double-height arcade with smaller boutique retailers and a subterranean community food hall plunged with light from an atrium where people can for example sit and enjoy lunch with colleagues, friends and associates.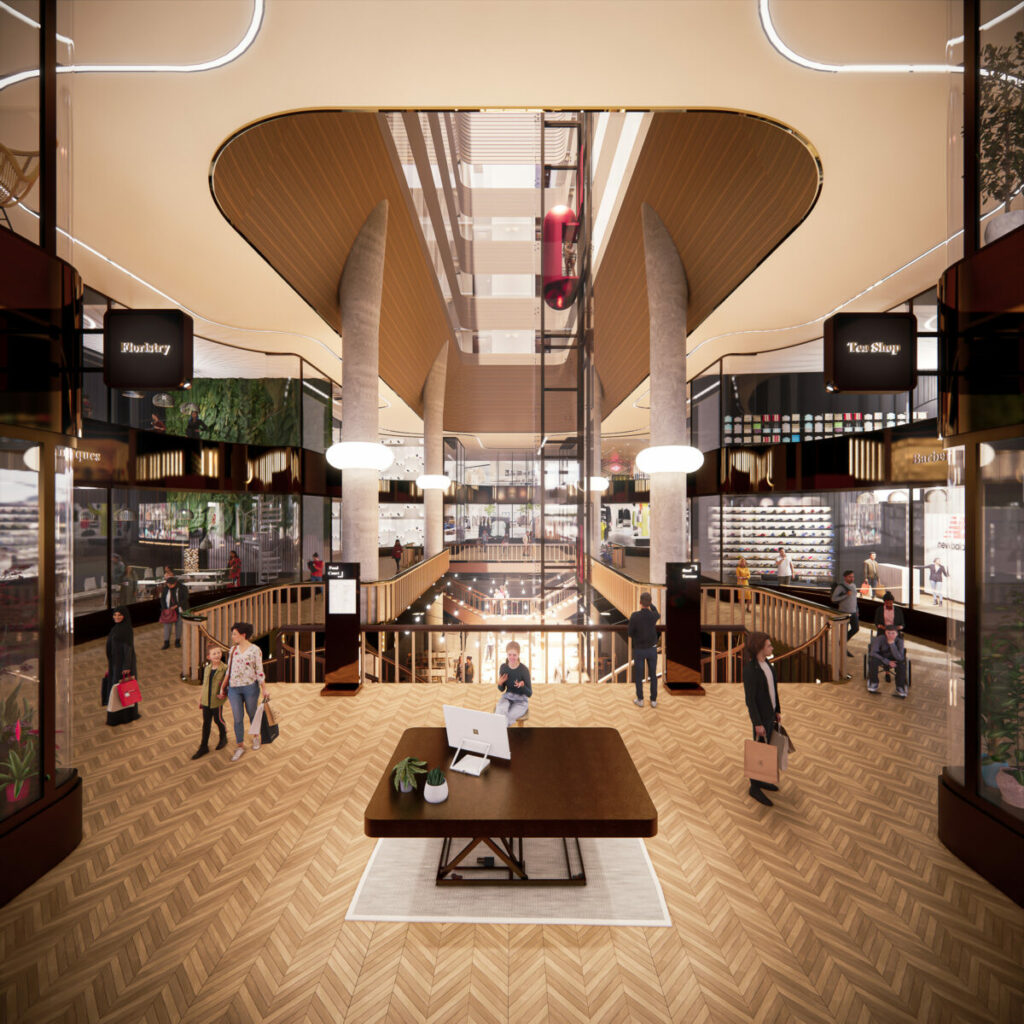 Over the next three storeys, a new hotel will offer unparalleled views over Market Square and provide guests with excellent connectivity to the city centre. An infill building adjacent to the neo-classical Griffin & Spalding façade wraps over to form a base for the new mansard storeys above. It is anticipated that these floors will offer Grade A office space, and a new media centre for TV broadcasts overlooking the Council House building.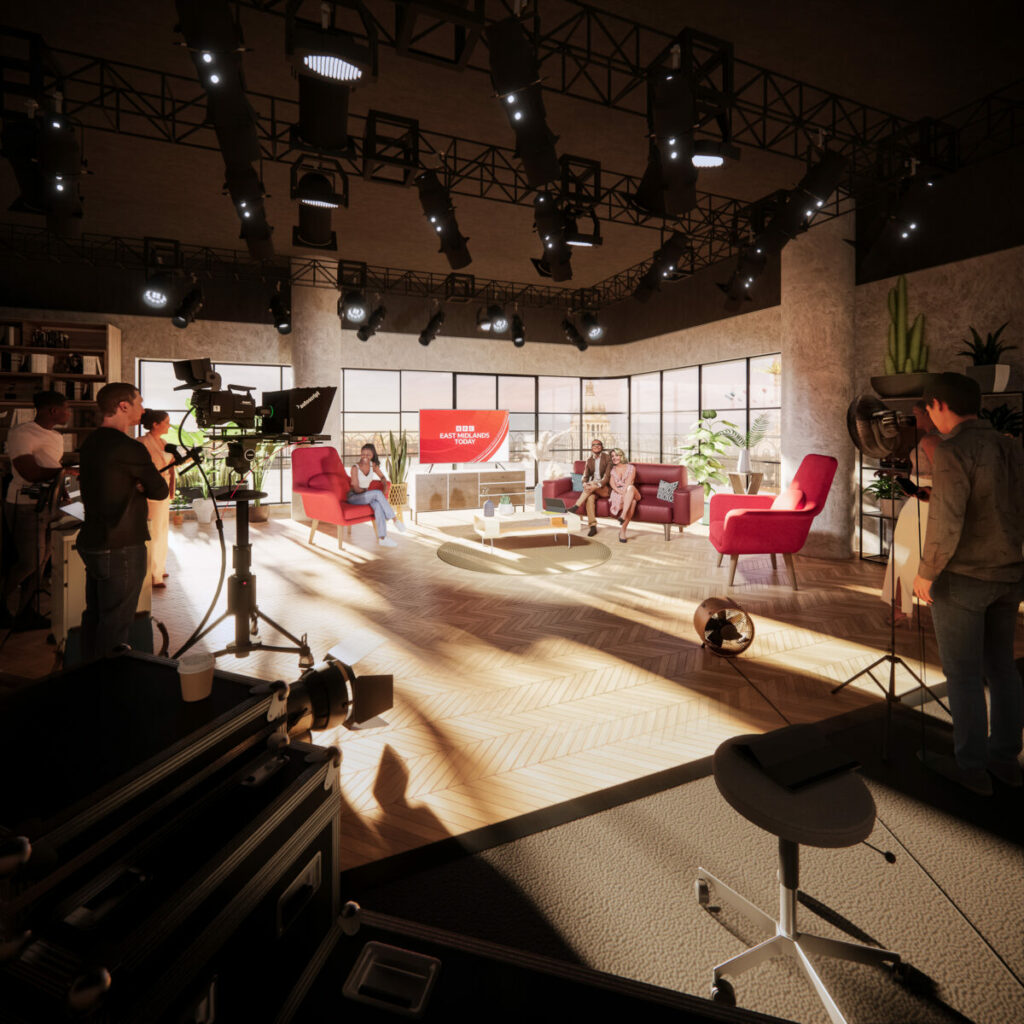 The mansard levels offer high quality residential housing to cater for a mixed intergenerational community of renter/owner-occupiers. Atop the mansard sits a hospitality pavilion, offering spaces for restaurants, and cultural venues. Finally, the building is crowned with a fully accessible public roof terrace, offering some of the finest views over the city and beyond.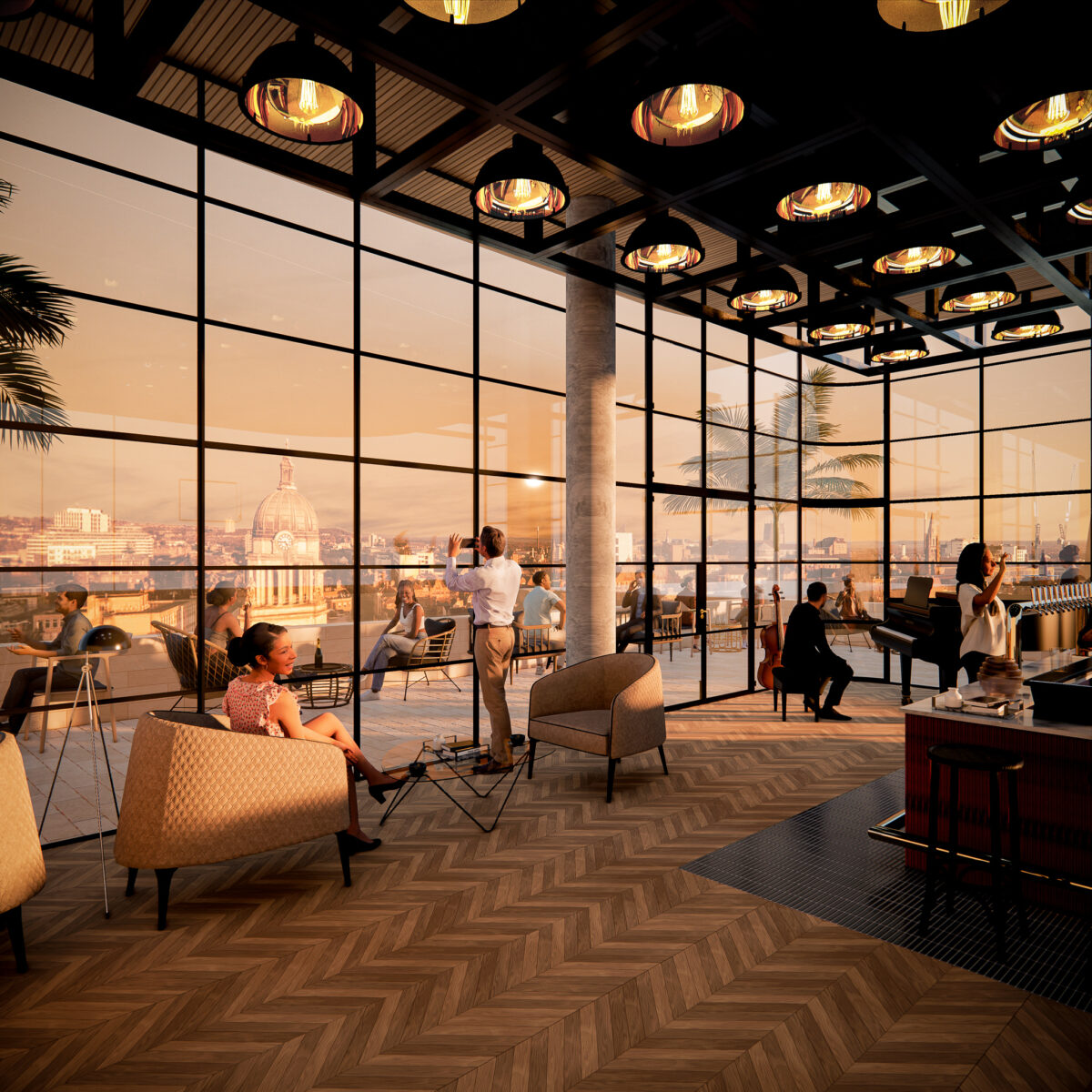 Adjacent to the infill building sits 'The Mikado,' a new pub and cultural building which is a nod to the much loved and much missed Mikado café of a similar name which previously sat on the site of the infill building. The final 1950s infill building adjacent to Five Guys will be demolished to make way for a new pedestrianised mews, Norfolk Place, linking Upper Parliament Street and Market Square.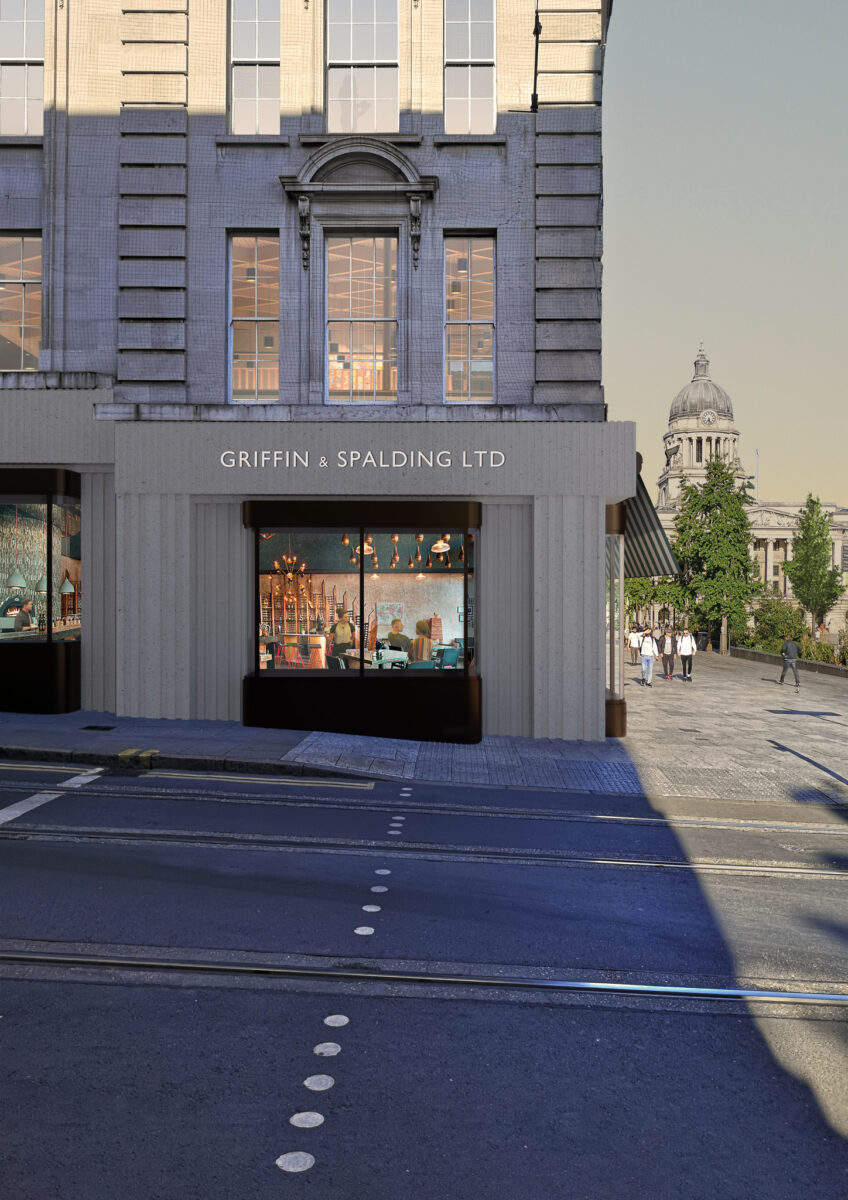 Architecturally, the new interventions seek to retrofit the existing collection of buildings in the former Debenhams estate, creating a homogeneous collection of spaces that serve a multitude of users throughout all periods of the day and evening. Sympathetic additions referencing the original Portland stone palette have been designed to both add density to the existing structures, enhance their presence in the townscape as well as creating an architecturally interesting intervention. We have focused intently on returning the ground floor condition to one of human scale, with traditional shop fronts, active frontage and clear delineated entrances. It is hoped that these interventions, were they to happen, would serve as a catalyst for wider development in and beyond Market Square.
GT3 Architects is an award-winning architecture practice with studios in Nottingham and Newcastle. Our growing practice, which has access to the contacts and funding streams to deliver such a project, has developed a reputation for creativity and innovation, translating bold concepts into elegant technical details and successful project delivery. Get in touch to learn more about our funding streams or follow us on Linked In to stay updated.