GT3 Runner Profiles – Matt McCreith
18 August 2022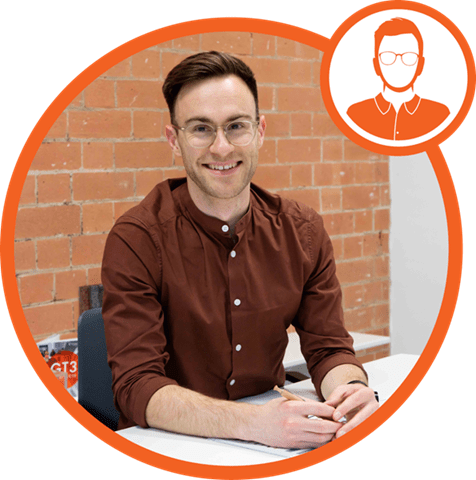 About Matt:
I'm a Project Architect here at GT3 – whilst I'd love to say that running is in my blood and I've been sporty since a young age – I would be lying! For most of my life, I've had the unfortunate mix of being very competitive but rubbish at most sports. However, about 6 years ago I decided to take up running in order to complete the Lincoln Half Marathon. That ignited a love of running which then developed into triathlon (why struggle with one sport when you can struggle with three?). Since then I've focused mainly on longer distance triathlons culminating with my first "iron" distance race, the Outlaw Full in Nottingham (2.4mile swim, 112mile bike & 26.2mile run) which I completed at the end of July.
What time would you like to finish in?
That depends on how competitive Luke and I get..!
What's your pre-race routine?
I always get a haircut before a race, makes me feel faster!
Have you done any marathons or runs before?
Yes, the Copenhagen Marathon in 2018 – an amazing experience. I also recently completed a marathon to finish off the Outlaw Triathlon in Nottingham
If yes, have you ever ran in a costume?
I once took part in a charity race at night where everyone wore neon face paint and glow sticks but that's as fancy as I've got!
What are your fave running shoes?
You never forget your first proper pair..! After developing some nasty knee pains from running in a £10 pair of trainers, I decided to go to a running shop to get my gait analysed in order to find a pair of trainers that suited me. I ended up with a pair of Nike Lunarglide 7's which served me faithfully during my Lincoln Half Marathon training and now are living out their days as my gardening shoes.
What is your usual running style?
I mostly run on my own so I listen to music and podcasts to keep myself entertained. I've also used the longer runs as a chance to construct a couple of best man speeches in my head!
Why did you want to run for Alzheimer's Society?
One of my grandparents suffered from dementia and although I was quite young at the time I can remember the impact it had on our family. Signing up to run for Alzheimer's Society has helped me understand the condition better and it's a great charity to raise money and awareness for.
Do you usually like running recreationally or is this new to you?
I'm afraid I'm one of those weirdos that enjoys running!
Do you partake in any other sporting activities?
Cycling & Swimming.
Do you prefer to run in; hot or cold weather? Morning or evening?
Definitely a morning runner, I like to get up early and get whatever session I need to do over and done with.  Running in the rain is also very satisfying.
What motivates you?
I'm quite competitive with myself and motivated by the desire to improve my fitness or race times. However, I do love the escapism of running so the thought of going out for a long run and just focusing on that for a while motivates me to get out the door.
What's your fave post-race food?
Anything! I normally spend the majority of a race thinking of what food/drink I'm going to treat myself to afterward – pizza and beer usually goes down well!
If you'd like to support us in running the Great North Run for Alzheimer's Society, please donate here: https://lnkd.in/ecNPkC6h